The Tipi Tent Range For All Kinds Of Outdoor Locations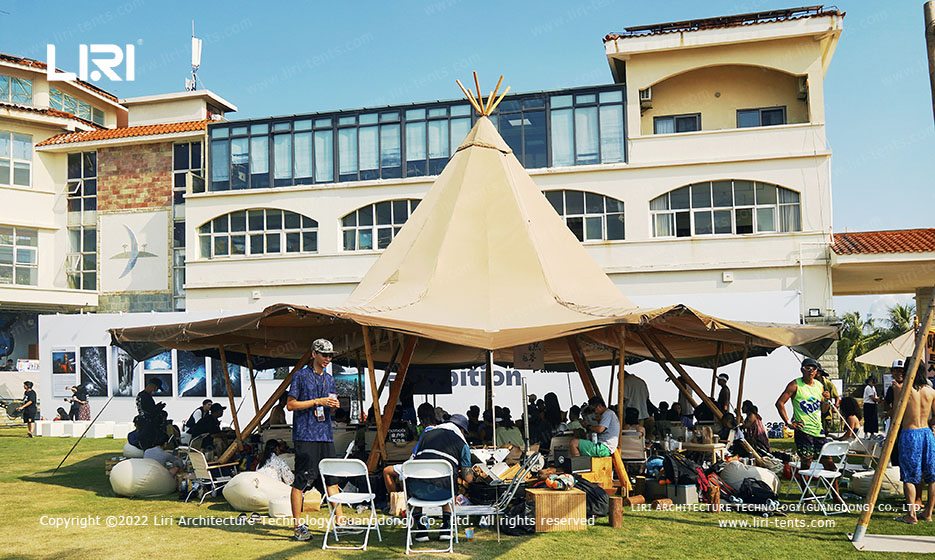 The development of the tipi can be traced back as far as the outdoor shelters of the Indians in the 18th century. Simple materials, quick to erect, and wind resistance are the reasons why most outdoor campers love the tipi. As consumers have become more capable, the demand for camping tents has increased. Liri-tent has launched a new range of tipi tents for use in scenarios ranging from camping, outdoor hotels, outdoor restaurants, exhibition halls, and more.
The new tipi tent range maintains the classic pyramidal conical shape and is covered in waterproof canvas. There is a curtain-like entrance on the front and, depending on the model, grille-like air vents on the sides and bottom. The most unique feature is the lifting cone-roofed skylight, which can be easily pulled up using a cord to enhance air circulation in the room. In addition, the different tipi models are supported by multiple solid timbers, which considerably strengthens their wind resistance.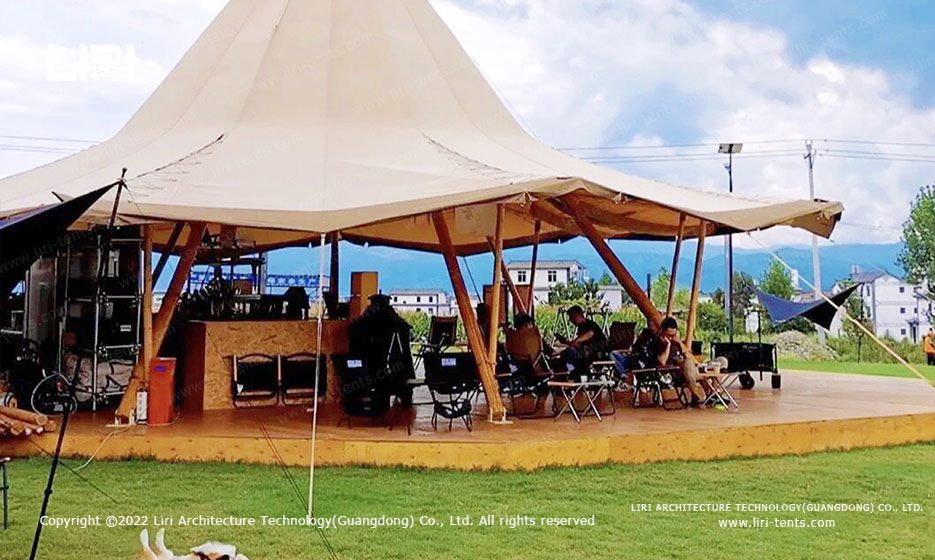 Liri-tent has a wide range of sizes in different models such as mini tipi, large tipi, giant tipi, and combination tipi. Not only are they beautiful to look at, but they also have a huge amount of space inside and the experience of using them is far superior to that of ordinary camping tents. Our tipi tent range is quick to set up on grass, desert, concrete, and other terrains.
The Tipi Tent Range For All Kinds Of Outdoor Locations
The best way to get away from the city is to feel nature and enjoy camping. The new tipi tent range can be adapted to different environments, different scenarios, and different people for outdoor camping solutions. The personal camping tent range, the shop and restaurant camping tent range, and the large outdoor business tent range. Both retain the unique regional architecture and customize the architecture for the outdoor environment.
The tipi is covered in a highly resistant oxford fabric, which effectively resists the impact of UV rays and rain. The large and jumbo tipi even add multiple ventilation holes and breathable windows at the top, waist, and bottom to reduce the feeling of stuffiness. Even for a space with a capacity of 100 people, there are no pillars shading the interior. It's as free and easy as in a normal shop or restaurant.
The giant combination tipi tent has greater support, with reinforced channels installed at the joints. The space, which is independently connected at both ends, serves as both a temporary workroom and an expanded business space. Compared to expensive concrete buildings, it is very quick to erect. It takes even a tenth of the construction time of a conventional building. This also saves significantly on expenses and labor costs. This is a sincere addition to Liri-tents' range of outdoor tents.