Tag Archive for:
large tent
Large storage marquees are a premium customer for crating terminals, logistics companies, and temporary showrooms.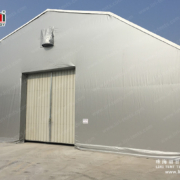 Big tents are not only used for large events but also can be used for warehouse storage of goods.
Large-area, anti-UV, rain-proof and well-equipped industrial warehouses are difficult to find and expensive to hire. Read more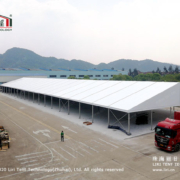 [vc_row][vc_column][vc_gallery interval="3″ images="2389,2390,2391″ img_size="large"][/vc_column][/vc_row][vc_row][vc_column][vc_column_text]
The pearl white tarp glows brightly in the sunlight. From a distance, you will fall in love with this pure white tent.
The width of the tent is from 5 meters to 80 meters, and the length span can be extended infinitely. The standard height is 3 meters, with special customization within 8 meters. There are no extra load-bearing poles inside the tent, and the space is super practical. Read more
About Us
We are a large manufacturer of marquees with a collection of design, manufacture, rental, and sales.
We provide solutions for large exhibitions, festivals, sporting events, stadiums, storage, and other temporary spaces.
Contact Info
No.7 Dongfu Street, Doumen, Zhuhai, Guangdong, China
+86-756-6250688
+86 13672679064
Mon – Sat
9:00 AM – 5:00 PM