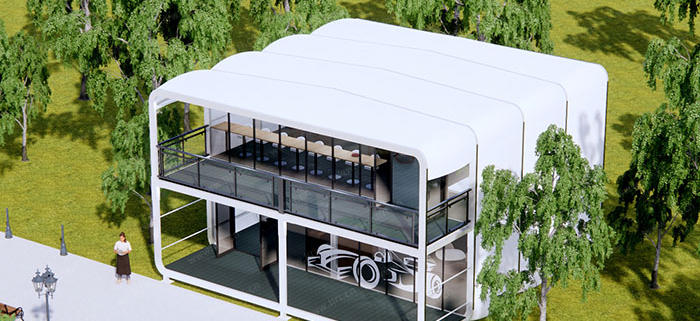 In recent years, with the continuous development of assembled buildings, the requirements of various industries for tents are also sufficient to gradually improve. Simple tents and low-quality tents flooded the whole market, and everyone gradually appeared aesthetic fatigue. Li Ri construction listen to the customer demand, combined with the project characteristics, the engineer's continuous research and development, continuous innovation, and finally designed a variety of different canopies.
Modular glamping box
Modular glamping box is a prefabricated structure product developed by LIRI for outdoor mobile hotel accommodation. The overall structure is composed of an aluminum alloy frame and PVC Fabric. With its fashionable and simple shape, it is deeply loved by customers.
In order to extend the scope of application of the product, LIRI redesigned the product, from the previous single connection to the current free connection, which not only expands the internal space but also makes it look like a strong three-dimensional BOX. The double-layer hollow design not only looks more high-end, and the internal floor height has been increased, making it more flexible and unlimited in the use of space. The transparent glass wall has a great lighting effect. If you want to protect privacy, you can also replace it with coated glass. You can choose brown, blue, dark gray, etc.
In appearance, the modular glamping box has a variety of surfaces, and different colors of PVC fabric can be printed to achieve advertising effects. Customers can determine the color and pattern of the fabric according to their own needs, which can create a different atmosphere and better the brand. Also could make a good effect on brand promotion.
Whether as a hotel or as a brand showroom, retail store, reception, etc.; Modular glamping boxes are very suitable, especially at the moment when the product structure is very homogenous, the unique appearance of the Modular glamping box can give consumers a refreshing feeling.
In the era of cultural tourism, LIRI has been working hard to enhance the added value of natural landscapes in camps and scenic spots and is committed to integrating nature and humanities to create a comprehensive camp and outdoor luxury living experience.